Application Process
1. Register on LawCAB
Your first step is to register on LawCAB. To do this, you will need to enter your email address and create your password. You will also need to confirm that you have read and understood the LawCAB Ltd Privacy Policy. Once you have submitted this, an email verification will be sent to you. If this does not reach your inbox, please check your junk/spam/promotions folders.
2. Create your form
Once you have successfully registered, you will be able to select what you want to apply for – a GDL course, LPC or SQE preparation course (Eligibility Checker). When you have made your course selection, an online application form is created for you.
3. Complete your form
You can complete the various sections of the form in your own time and in whatever order you wish, however, each section needs to be completed and saved (indicated by the green tick where completion of the section is mandatory) before you can submit your form. The forms are divided into the following sections: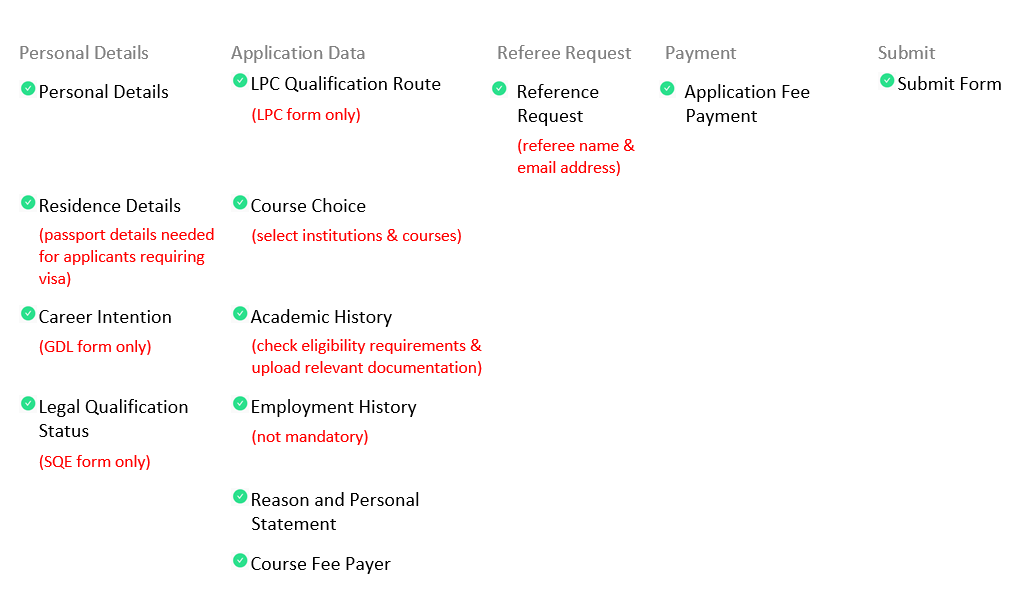 4. Nominate a referee
Most course providers require a recommendation or statement of support from someone who knows you (not a family member) and can confirm your suitability for the course for which you are applying. For the purposes of your LawCAB application, this person would ideally comment on your academic abilities and suitability for post-graduate study for a career in law.
Your reference forms part of the criteria that the course providers will take into account when considering your application and so it's really important that you check with the person you nominate that they are able and willing to provide you with a reference in support of your application. Do not nominate someone as a referee without checking with them first!
When you submit your form, a reference request is automatically sent to your referee so that they can submit a reference for you. We strongly recommend that you then check with your referee that they have received this.
5. Pay your application fee
When you reach the Payment section you will see a link to make the application fee payment via Stripe secure online payment processing. The application fee is currently £25.
All applicants for LPC, GDL and SQE preparation courses are required to pay the £25.00 application fee; without payment the form will not be processed. This includes applicants who have obtained training contracts, bursaries, or scholarships.
Refund Policy: Applicants have the right to cancel forms and request the fee is refunded if they contact the Central Applications Board Ltd (CAB) within 14 days of the payment being received. However, the right to a refund ceases once your form has been released to the institutions.
Applicants should be aware that as soon as the form has been submitted, it is subject to an automated process whereby it is automatically completed and released to the chosen institutions as soon as the reference has been submitted. In the event that a reference isn't needed, the form will be released as soon as it is submitted.
If your form has not yet been released, you are within the 14 day refund period and you wish to cancel your application, please email payments@lawcabs.ac.uk giving the full name entered on the application together with the payment ID and applicant ID. On receipt CAB will arrange for the refund to be made and for the application to be removed from the system.
After you have made your application fee payment, you will need to return to your form and go to the 'submit' section.
6. Submit your form
When you come to submit your form, you will be asked to confirm once again that you have read and understood the LawCAB Ltd Privacy Policy before you can then submit your form.
When you submit your form, you are agreeing to having the permission of anybody named in your form (i.e. your referee) to supply their details for us to contact as required in relation to your application.
You are also agreeing that as soon as your form has been submitted, it is subject to an automated process whereby it is automatically completed and released to your chosen institutions when your reference has been submitted. In the event that a reference isn't needed, your form will be released as soon as you submit it.
Where a reference is required:
7. Reference request
When you have submitted your form, the person you have nominated as a referee will receive an automated reference request.
Please note: Your form is NOT released to the institutions until your referee has submitted a reference. It is the responsibility of applicants to check that their referee has received the reference request. If there are any problems, please contact the LawCAB team at applications@lawcabs.ac.uk.
8. Reference submitted
After your reference has been submitted, your form will be released to your chosen institutions.
9. Form completed and released
Once your form has been released, the institutions you have applied to will contact you to advise you of their decision. You should allow 5-10 working days for the institutions to respond before chasing up, however, the process of reviewing applications can take longer during busy periods.
How to Track Your Application
Use the table below to understand the status of your application.