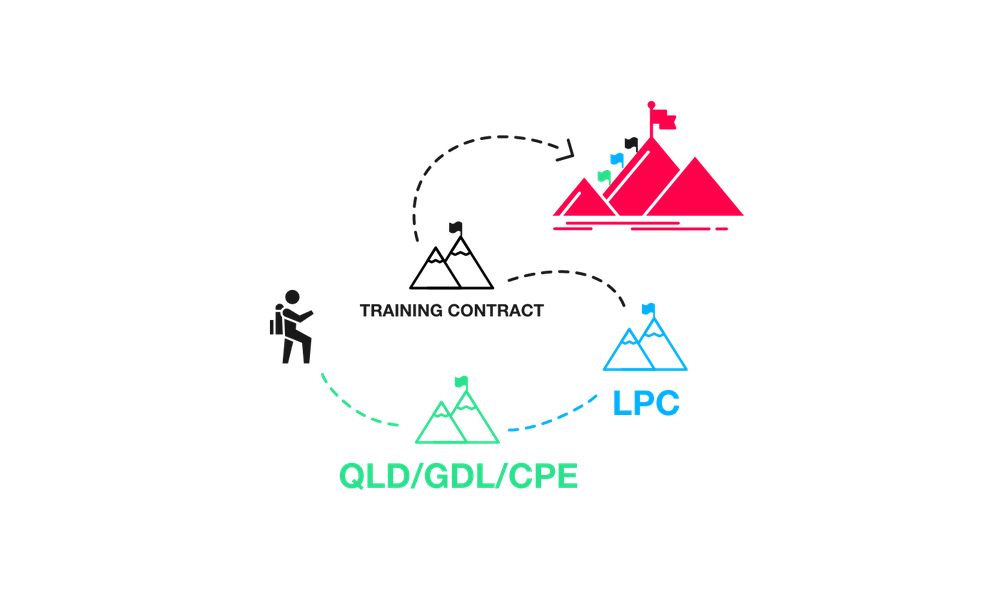 The Legal Practice Course is designed for applicants who are currently studying or have obtained their Qualifying Law Degrees (QLD/LLB) or Graduate Diploma in Law (GDL) in the UK or for those who have been admitted as a Fellow of the Chartered Institute of Legal Executives (FILEx).
Please refer to the Solicitors Regulation Authority (SRA) website for a list of the institutions that offer qualifying law degrees together with the award titles of the qualifying degrees.
The LPC is not designed for students who have studied law degrees outside of the UK – unless the degree has been recognised by the UK QAA and has been awarded in collaboration with a UK institution such as the University of London.
Eligibility requirements
To be eligible to apply for the LPC you must have:
Or
Fellowship of the Chartered Institute of Legal Executives (FILEx)
Important: Those who start QLDs, ELDs and GDLs between September - December 2021 fall within the SRA's transitional arrangements and may continue to qualify through the LPC route until 31 December 2032, altbough it is possible that course providers may choose to stop offering the LPC sooner than this. If you fall within the SRA's transitional arrangements, you will be asked to provide evidence of this when you apply for your LPC. This may take the form of confirmation from your GDL/QLD/ELD course provider that you accepted an offer by 31 August 2021 (21 September for QLD/ELD students) for a place on a course that started before 31 December 2021.
The steps to qualification on the LPC route are set out below.

There are two entry points to the LPC route - either via a Qualifying Law Degree (QLD) or through a law conversion course, commonly known as the Graduate Diploma in Law (GDL). The GDL route is gradually being phased out in favour of a new route based on the Solicitors Qualifying Examination (SQE) coming into effect in 2021. Preparatory courses for the SQE will be available from the 1st of October 2020 and the route is outlined in further detail below.

A qualifying law degree is an undergraduate degree awarded by a UK university and validated by the Solicitors Regulation Authority (SRA). Its purpose is to allow candidates to proceed along the LPC pathway to qualification as a solicitor (or as the academic stage in the qualification journey to become a barrister) and so the degree itself must cover certain foundational areas of legal knowledge alongside other restrictions such as only allowing a certain number of re-sits. Not all law degrees are QLDs. Your university will be able to confirm details about the law degrees which they offer and whether these count as a QLD.
The SRA maintains an up-to-date list of qualifying law degree providers.

The GDL/CPE route is for those applicants who have an undergraduate degree but it is not in law (or it is not a qualifying law degree awarded by a UK university). The GDL/CPE is an intensive course built around the core curriculum and assessment requirements of a qualifying law degree. It aims to condense the knowledge and skills acquired in a graduate course which can bring non-law graduates up to the same standard as law graduates before they go onto the vocational stage of qualifying as a solicitor (i.e. the LPC) or as a barrister (i.e. Bar training courses).
The GDL course can also be extended in duration to satisfy the requirements of a MA. Such courses are available on LawCAB.

The Legal Practice Course (LPC) is part of the vocational stage of training to be a solicitor - and it can be studied full or part time with an authorised LPC provider. The aim of the LPC is to prepare students for work-based learning and to provide a general foundation for practice. Generally, it comprises a first stage that focuses on core practice areas and skills, and a second stage containing three vocational electives. Many providers also bundle their LPC into the postgraduate degree LLM. These courses tend to be longer in duration and involve a module requiring an independent research project.
Providers arrange their LPC in different ways and so you will need to check directly with each institution to confirm how they deliver their programme.

This is a 2 year period of recognised training which must be completed post-LPC; it is commonly referred to as the 'training contract'. Individuals are given supervised experience in legal practice in order to refine professional skills essential to practicing as a solicitor, including: advocacy, client care, drafting, commercial and financial awareness, and experience in specific areas of practice.
After all the above have been completed, the final requirements include the Professional Skills Courses (PSC) and the SRA Assessment of Character and Suitability and once these have been ticked off then, congratulations, you're ready to be admitted as a solicitor in England and Wales.
Read our further guidance on accessing a period of recognised training - the training contract - for the GDL/LPC route in our FAQ below.