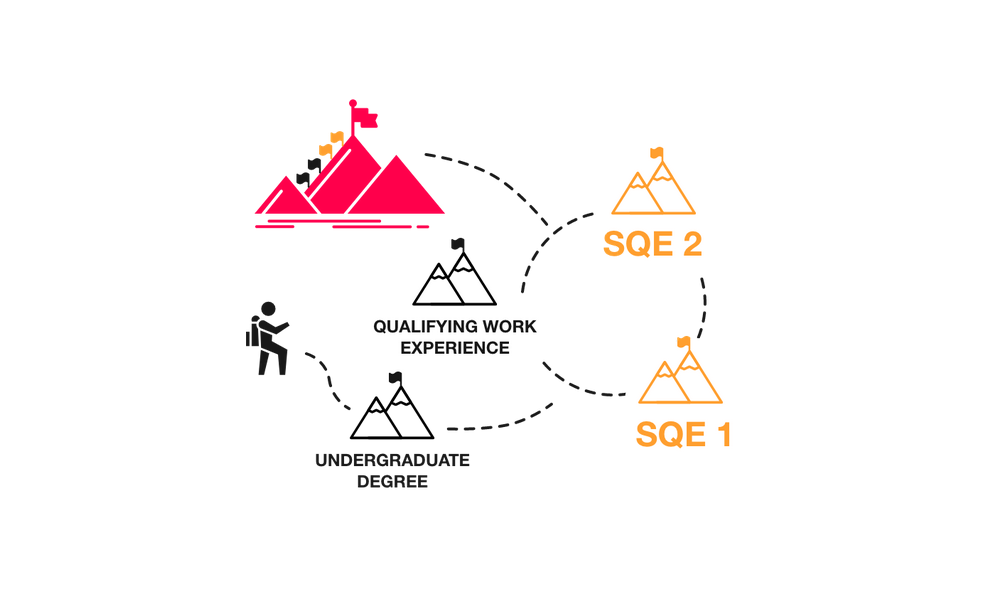 From 2021 - preparatory courses will be available on LawCab before this point see here for further details - there will be a new way to qualify as a solicitor in England and Wales. This new route is called the Solicitors Qualification Exam (SQE) and it will gradually replace the LPC route outlined above. The exact transition period is slighly complex so we'd advise that you use our eligibility checker to ensure that you start down the route which is available to you.
A major difference from the LPC route is that the SQE route separates the SQE exam itself from the SQE preparatory courses/programmes. The SQE1 and SQE2 examinations are centrally administered by Kaplan, whereas LawCAB hosts courses and programmes which will prepare you to sit these examinations.
The steps to qualification on the SQE route are set out below.

An UK undergraduate degree (or equivalent) must be held before a candidate completes the qualification route as a solicitor and makes an application to be admitted onto the roll of solicitors.
This criteria can be satisfied in a number of alternative ways, such as:
a degree awarded by a non-UK institution which has been certified as equivalent through a UK NARIC Statement of Comparability
a regulated apprenticeship in England and Wales rated at level 6 (or above)
an accredited qualification rated at level 6 (or above) of the Framework for Higher Education Qualifications
or demonstrate work experience equivalent to a UK degree
Exact details of this requirement are set out by the SRA here.
SQE Preparatory Courses/Programmes/Degrees
Preparation for the SQE is now separate from the SQE exam itself. You will need to pass the exam after the course has been taken. No doubt many providers will seamlessly attach the SQE exam to their programme of preparation, but this is something which you should confirm. Preparation for the SQE can take a number of forms and it may be a standalone course or bundled into an undergraduate/postgraduate qualification, amongst other options. See here for further details on SQE preparatory courses.

The SQE1 assessment tests candidates on their functioning legal knowledge. It covers the breadth and depth of the law of England and Wales which is currently taught on the Qualifying Law Degree and the Graduate Diploma in Law (both detailed above). The assessment is split into two and includes the following disciplines:
Business Law and Practice; Dispute Resolution; Contract; Tort; Legal System of England and Wales; Constitutional and Administrative Law and EU Law and Legal Services.

Property Practice; Wills and the Administration of Estates; Solicitors Accounts; Land Law; Trusts; Criminal Law and Practice.

The SQE2 is concerned with testing legal skills and draws upon knowledge covered under the SQE1. It is most comparable to the LPC qualification (outlined above) and is more vocationally orientated than the SQE1.
The SQE2 will examine the candidate on client interview and attendance note/legal analysis, advocacy, case and matter analysis, legal research, legal writing, legal drafting, and negotiation in the following practice areas: Criminal Litigation, Dispute Resolution, Property Practice, Wills and Intestacy, Probate Administration and Practice, Business organisations, rules and procedures.
Qualifying Work Experience (QWE)
Qualifying work experience is any experience of providing legal services that offers a candidate the opportunity to develop some or all of the competences needed to practise as a solicitor. Work experience can be obtained in England or Wales or overseas, but it must be signed off by a qualified solicitor:
It can be gained in one block of time or in stages, so long as it is in no more than four organisations. It can be paid or unpaid work and could include:
on placement during a law degree
working in a law clinic
at a voluntary or charitable organisation such Citizen Advice or a law centre
working as a paralegal
on a training contract.
The aim is offer more flexibility to the candidate than is presently available under the LPC route. The SRA have produced an infographic highlighting its versatility.
After all the above have been completed, the final requirements include the Professional Skills Courses (PSC) and the SRA Assessment of Character and Suitability and once these have been ticked off then, congratulations, you're ready to be admitted as a solicitor in England and Wales.
To read more about which route may be best for you, see 'Should I choose to qualify under the GDL/LPC or SQE route?' in the FAQs section.